RUBIN (Рубин)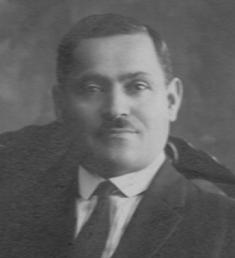 Max Rubin

Kaufman RUBIN, from Beloye, Russia, married Itke GITLIN, daughter of Mordke Ber and Nekhama from Dolginov, and had seven children: Nachame, Chaya Lea, Mendel (1879), Hinde Bashe, Shmuel Josef, Hershele, and a son that died at one year old.

Mendel "Max" RUBIN married Chana MILENKY from Ivenetz, daughter of Jevna and Itka nee ROTSHTEIN, in about 1900 and had four children: Toba Gitel, Fanya (1905), Abram (1907), and Edith (1911). He immigrated to the United States in 1920 followed by his wife and three surviving children (all but Toba Gitel) three years later. After his wife Chana died in Brooklyn in 1925, Max married Sarah RAPPORT (nee RABINOVITZ), daughter of Harry and Dina nee CRACKOW. He died in Manhattan, New York, in 1968.

Toba Gitel RUBIN died at one year old.
Fanya "Florence" RUBIN married Morris GOODMAN in the Bronx, New York, in 1927. She died in Portland, Oregon, in 2006.
Abraham RUBIN, a pharmacist, married Celia and died in Manhattan, New York, in 2005.
Edith RUBIN married George RAPPORT, son of Isaac and Sarah nee RABINOVITZ. She died in Orange, California, in 2003.