RUBIN (Рубин)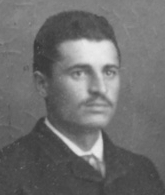 Alex Rubin

Elias "Alex" RUBIN (1864), son of Hersch and Rebecca (likely nee ALPEROVICH), a fruit merchant, married Esther KAUFMAN , daughter of Josel and Chava nee ALPEROVICH, and immigrated to the United States in about 1885. They had five children: Katie (1890), Joseph (1893), David Bernard (1895), Sarah (1898), and Herman Carl (1903). Alex died in Brooklyn in 1935.

Sidney Laurence MOSKOWITZ died in 1988.
Roslyn Ann MOSKOWITZ died in 1977.

Evelyn RUBIN married Charles Bennett BLOCH, a famous cantor in Brooklyn. Charles died in 2005 followed by Evelyn in 2009.
Irving RUBIN married Florence.