CEPELEWICZ (Цепловиц)
Jasheia CEPELEWICZ lived in Postawy, Russia, with his wife Ruth and had at least three children: Pinchas (1872), Joseph (1881), and Deborah.

Louis Cheplowitz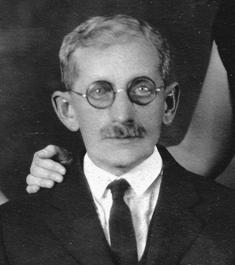 Peter Cheplowitz
Pinchas CEPELEWICZ "Peter CHEPLOWITZ", a huckster, married Basia "Bettie" SWERDLINE, daughter of Srul, in about 1891 and had at least two children born in the nearby village of Dunilowicze, Leib (1900) and Minca (1902). All four immigrated to the United States and settled in Akron, Ohio, with Peter making the journey first in 1913 and Basia in 1921. Peter died in Akron in 1936.

Leib CEPELEWICZ "Louis CHEPLOWITZ" married Chana KAUFMAN, daughter of David and Gita nee MILENKY, in Minsk in 1920 and had a son in Warsaw, Poland: Szia "Sidney David" (1921). In 1922, the family immigrated to Montreal, Canada, and then a month later crossed the border into America. They settled in Akron and a daughter, Evelyn Ruth (1923). Louis died in Akron in 1967.

Szyja "Sidney David" CHEPLOWITZ married Evelyn BASS, daughter of Mosze BASCHITZKY and Mary nee WALOTSKY, and died in Sandusky, Ohio, in 2007.
Evelyn Ruth CHEPLOWITZ married Leonard Robert SAVAGE, son of Samuel and Anna nee MERVIS, and died in Boca Raton, Florida, in 2006.

Minca CEPELEWICZ "Minnie CHEPLOWITZ" immigrated with her mother in 1921 and then married Zelig "Jacob" SITZKIN, a poultry and fruit dealer from Glubako, Russia, in Akron in 1925. Minne died in 1981 in Miami, Florida.

Joseph Cheplovitz

Joseph CEPELEWICZ "CHEPLOVITZ" immigrated to America in 1904. He married Anna GORDON, daughter of Isaac, had five children: Isaac (1905), Elias (1908), Ruth (1914), Dina (1916), and Irella (1919).

Isaac "Irving" CHEPLOVITZ married Julia, daughter of Abraham. He died in 1970.
Elias "Alfred" CHEPLOVITZ died in Pompano Beach, Florida, in 1983.
Ruth "Rose" CHEPLOVITZ died in Pompano Beach, Florida, in 1992.
Dina "Diana" CHEPLOVITZ married LANZET and died in 2005.

Deborah CEPELEWICZ married a man with the surname GURWITZ and had at least one son named Avrom (1912).

Avrom GURWITZ married Cherna TROTZKY and died in 2001.